This time of year, in this part of the country, it's not often that we can write a headline like the one above. The current weather pattern, however, dictates otherwise — and that pattern looks to continue for at least the next several days. Incredibly pleasant, benign weather will continue through the remainder of this work week and into the weekend. Temperatures will slowly warm each day, but remain very comfortable. A light breeze will accompany mostly clear skies.
Only a weekend cold front looks to interrupt the forecast, but most models keep moisture limited and precipitation very spotty as a result. Temperatures will trend a bit cooler as it passes, but are expected to recover only a day or two after. This takes our forecast into early next week which, in terms of forecasting accurately, is an eternity.
The pattern is a result of a progressive trend — very little amplitude on either the West or East Coast of the United States. Most disturbances are still tracking well to our north over Central Canada, and dry calm air is settled from the Central through the Eastern United States. A strong disturbance will have to amplify to buck the this trend, and no forecast model indicates that occurring within a week's time.
It's essentially a summer-like pattern with the jet stream very far north, but just with a bit of modification due to the time of year.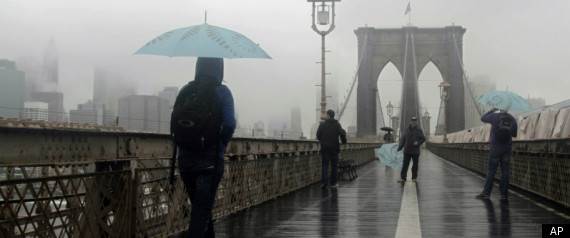 Coastal storm, periods of rain on Thursday
It has been quite a while since rain threatened the forecast in our area. It has been even longer since rain threatened the forecast over a widespread part of the forecast area. Both will be accomplished on Thursday, as a coastal storm moves off the Mid Atlantic coast southeast of Long Island. While a blanket of heavy rain isn't expected to overspread the entire region, periodic rain with cloudy and unsettled conditions are in the forecast on Thursday.
The coastal system will be the first in many months, forming as a result of a weak mid level atmospheric disturbance over the Middle Atlantic states. This system will shift east/northeastward and allow the developing surface low to skirt offshore. The resulting forcing for precipitation to the northwest of the surface low will allow for the development of rain, which may be periodically heavy thanks to tropical moisture present in the atmosphere.

Labor Day '98, New York City's encounter with a derecho
September 7th, 1998 began with unusually warm and humid air throughout much of the Northeast United States. A southerly flow in the atmosphere had advected high dew points and unstable air farther north than normal — and much of the Northeast was experiencing late summer heat. The southerly winds were being aided by a developing trough to the northwest, over Southeastern Canada.
This trough and associated surface low pressure system would become the spark to ignite thunderstorms that would eventually race from Southeast Canada, through New York City, and off the coasts of New Jersey and Long Island. Impressive wind fields located throughout the Northeast US would support the development organized thunderstorms, capable of producing widespread damaging winds and a few tornadoes.

Another lovely weekend, but the drought will continue
Good afternoon! In case you haven't noticed, it's still quite hot outside, as temperatures are around 90 degrees with mostly sunny skies. It is somewhat humid, though the humidity is not unbearable, as heat indexes will generally be right around the actual air temperatures. This is why despite the prolonged stretch of hot weather, we have not had any heat advisories issued for the area. That being said, this weather is still much more suitable for the beach and the pool than for doing any strenuous outdoor activities.
Fortunately, some temporary relief is on the way, as a cold front will be approaching the area tonight. It has Canadian origins, so the front is moisture-starved. This will prevent widespread thunderstorms, but clouds may increase during the late afternoon, through the night, and tomorrow. The front's biggest effects will be a change to much cooler and less humid conditions for Friday and Saturday. Of course, without any true rainfall in the forecast, the drought will continue.
Most areas are in the "abnormally dry" category, indicated by the yellow, but there is a growing area of "moderate" drought, which is indicated by the tan area
. Over the next couple of weeks, it is possible that the entire area will be under a moderate drought.
Here are the weather highlights over the next few days:
Isolated showers and thunderstorms are possible tonight, but they will not be widespread enough for anyone to cancel their plans. Clouds and a couple of isolated showers could linger into Friday morning.
With the front to our south on Friday, it will be much cooler with very low humidity. Skies will start out mostly cloudy but will eventually become partly sunny as the afternoon goes on; the clouds will never completely burn off. High temperatures will be in the low 80s, as the flow will become onshore. The onshore flow will help make coastal areas be somewhat breezy at times throughout the day.
Friday night will have a cooler, crisper feel, with temperatures generally falling into the upper 50s, but low to mid 60s in urban areas.
Saturday looks gorgeous, with mostly sunny skies and highs in the low 80s, with continued low humidity as high pressure will dominate. Overnight lows will fall into the 50s in most locations, with 60s in urban locations.
The high pressure will slide offshore on Sunday, leading to a return flow and thus the return of heat and humidity. Sunday will be the transition day, so it still looks to be a nice day with highs in the mid to upper 80s with still somewhat low humidity. The true heat and humidity will be arriving on Sunday night through much of next week.
Sunday night will see increasing humidity, and Labor Day through most of next week could have temperatures around 90 degrees once again, with haze and humidity as well. There will unfortunately be too much large-scale ridging to support any widespread rainfall chances, which means that the drought will continue to get worse. A true autumn-like blast of air may not arrive until the middle of the month.

Weekend Overview: Pleasant Saturday, then the heat arrives
Good evening! We hope you all have enjoyed this absolutely lovely stretch of weather we've had over the past few days, because it's going to heat up. This is thanks to a large ridge which will be developing across most of the US and will extend into our area. This large ridge will be accompanied by very slow upper-level winds, making it quite slow to move, which means the warm pattern from the ridge will be sticking around.
Fortunately, we have one more very pleasant evening tonight. The warm airmass will be gradually arriving, but we'll still only be on the periphery of it. This means that the airmass will only be slightly warmer than last night, and humidity will still be pretty low. Temperatures will generally be around five degrees warmer than they were last night.
While some ridging will certainly be in-place tomorrow, allowing winds to shift to a more southerly component with a bit of a warmer airmass, some northern stream troughing in New England will help flatten the ridge somewhat, preventing temperatures from soaring tomorrow. This will also push in some drier air as well, which should be able to keep humidity levels quite comfortable, but also a bit higher than they were today. This means that Saturday looks like another lovely day.
Here are the weather highlights over the next few days:
Tomorrow will have mostly sunny skies with temperatures in the mid to upper 80s. While humidity will be a tad higher than today, it will still be at pleasantly low levels.
The humidity will continue to increase on Saturday night, as the ridge becomes a bit more established and the trough moves away. While it won't be humid, the changes will start to be a bit more noticeable. Overnight lows will generally be in the upper 60s.
The true heat starts on Sunday. Temperatures are expected to be in the upper 80s to low 90s across the area, though perhaps a bit chillier along the immediate shores, particularly south-facing shores. Dewpoints will have risen into the low to mid 60s, which will make it a bit uncomfortable, but not unbearable. Overnight lows will be around 70.
Once early next week comes around, the heat ridge will have fully established itself. This should lead to widespread low 90s for highs, with dewpoints generally in the mid to upper 60s, but sometimes around 70. This will make it feel quite hot and humid — a summery heatwave looks to be in-store. This hot weather looks to stick around through at least Thursday, and perhaps even longer than that.
For the most part, we are expected to remain dry. There is the slight chance for very isolated showers and thunderstorms on Sunday and onward, but this should generally be relegated to inland areas and should not be enough to cancel outdoor plans.

Tropical Storm Erika has continued to track south of forecast guidance

, which limits its ceiling for strengthening. The forecast for it remains quite uncertain, but the general trend has been wagons south, which could even place it in the Gulf of Mexico. The NHC may eventually shift their cone southward if these trends were to continue.